About Kartoon Channel!
With

, parents can be sure that the shows their children are watching are Fun, Family Friendly, and FREE!!!
Code Of Ethics
The hallmark of Kartoon Channel! is 'Smart and Safe.' All programs are carefully curated to not only be entertaining and enriching, but also to ensure there is no violence, no negative stereotypes, no inappropriate language, and no excessive commercialization.
Developed in consultation with Stanford University Professor Emeritus Don Roberts, a leading researcher of children's media, we are extremely focused on providing positive purposeful content that parents can always know will provide safe viewing for their children.
---
FAQ
Can You Help Me Find The Show I'm Looking For?
Kartoon Channel! has a variety of content for little kids to big kids. Shows are being added to our platform every day, such as:
Nursery Rhymes and toddler shows like Baby Genius and Amber the Ambulance
Enriching and Fun shows like Warren Buffet's Secret Millionaires Club and Thomas Edison's Secret Lab
Lots of Laughs for everyone with Angry Birds and Om Nom
Gaming Shows for Minecraft like Journey to the End and Fairy Horse Quest
---
How Can I See A List Of The Programming That Kartoon Channel! Has?
We are constantly adding new shows to Kartoon Channel! Some content may be different based on what platform you view Kartoon Channel! on. We will be adding fresh shows for kids and families on an ongoing basis.
---
How Do I Find Kartoon Channel! On Current Platforms?
Please see https://www.kartoonchannel.com/devices
---
How Do I Find Kartoon Channel! On Comcast/Cox?
Cox and Comcast are in the process of transitioning over to Kartoon Channel! You can still find all of our great content on the Baby Genius and Kid Genius channels until it switches over to Kartoon Channel!
---
How Can I Subscribe To Kartoon Channel! Jr On The App?
Kartoon Channel! Jr. is a YouTube only product which divides up content for big kids and little kids. All Kartoon Channel! content is available and segmented for big kids and little kids inside of the app (it's at the top of the screen on most platforms), from 0 - 5 and 6+ years old. click here to go to Kartoon Channel on Youtube and click here to go to Kartoon Channel! Jr. on YouTube. Don't for get to hit subscribe on YouTube.
---
Future Today Or Happy Kids TV - What Is The Connection Here?
Kartoon Channel! has a partnership and service agreement with Future Today and Happy Kids TV.
---
I Have A Suggestion For You:
We love suggestions from our customers. Please submit suggestions at: https://www.kartoonchannel.com/contact-us
---
Are You Doing Any Marketing For The Kartoon Channel!?
Yes. We market Kartoon Channel! via display & video advertising (web ads), influencers (on social media), email, YouTube and more, including on OTT platforms (like Roku). These ads are targeted to consumers which builds our brand and drives viewership.
---
When Does Kartoon Channel! Parent Company, Genius Brands International, Put Out Your Quarterly Statements Or Hold Earnings Call?
Quarterly statements and shareholders calls are released and announced in accordance with SEC regulations. To receive shareholder emails alerts including filings and press releases please visit: https://ir.gnusbrands.com/email-alerts



---
Kartoon Channel! Management Team
Margaret Loesch, Executive Chairman Kartoon Channel!
Throughout her formidable career, Margaret Loesch has held senior roles with numerous leading companies as both a creative and business executive. In 1990, she became the founding President and CEO of Fox Kids Networks Worldwide, growing the channels across all metrics, where it was eventually sold to the Walt Disney Company for $5.5 billion. During this time, she launched a multitude of hit series, including the billion-dollar brand Power Rangers, growing Fox Kids into the top children's program service on television.
Prior to Fox Kids, Loesch served as President & CEO of Marvel Productions. Previously, she was President of The Jim Henson Company, and the Founding President & CEO of the U.S. Hallmark Channel and Crown Media U.S. Most recently, Loesch served as President of the HUB, which was a joint venture between Hasbro Toys and Discovery Communications, where she had oversight of all business and creative areas of the network. In addition to Power Rangers, her resume includes launching some of the most successful animated children's properties in the world, such as Batman, Spider-Man, Steven Spielberg's Animaniacs, Transformers, My Little Pony, X-Men, Muppet Babies, and Fraggle Rock.
---
Andy Heyward, Chairman and CEO Genius Brands International
Andy Heyward is a multi-Emmy-winning producer of children's entertainment. He is the former Chairman & CEO of DIC Entertainment, where he produced more than 5,000 episodes of children's entertainment, including The Real Ghostbusters, Inspector Gadget, Alvin and the Chipmunks, G.I. Joe, Hello Kitty's Furry Tale Theatre, Sonic the Hedgehog, The Super Mario Bros Super Show, Sabrina the Animated Series, Strawberry Shortcake, Care Bears, Captain Planet, Teddy Ruxpin, The New Archies, and dozens more. Heyward sold DIC Entertainment to Walt Disney, where he managed it for Disney for 7 more years.
Don Roberts, Stanford University Professor Emeritus*
Donald Roberts received his A.B. from Columbia University (1961) and his M.A. from the University of California at Berkeley (1963). He earned his Ph.D. in communication at Stanford in 1968, then became a member of the department faculty, serving as Director of the Institute for Communication Research from 1985-1990 and from 1999-2001. He chaired the department from 1990-1996.
Roberts teaches undergraduate and graduate courses on communication theory and research and on children, youth, and media. His primary area of research concerns how children and adolescents use and respond to media, a topic on which he has written extensively.
*Author of Kartoon Channel's Code of Ethics
---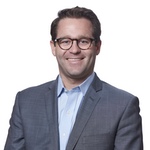 Jon Ollwerther, President of KartoonChannel!
Ollwerther joins Genius Brands from Measure, the nation's leading Drone as a Service® company. As Vice President of Media, Ollwerther grew the Arts & Entertainment division from its inception and worked with leading media companies and advertisers like ABC, CBS, ESPN, Red Bull Media House, Coach, Prada, Maker's Mark, and Nissan.
As a trailblazer in an emerging industry, Ollwerther focused on leveraging drones as a tool for artistic expression and informational use, including major franchise films to live concerts and events. Among other accomplishments, he pioneered live broadcasting via drone for news and sports and spearheaded the first live drone network broadcasts in America and helped bring drone light shows to life. Working with clients across the country and around the world, Ollwerther has an extensive credit list of collaborations with brands and advertising agencies to create unforgettable experiences. Prior to joining Measure, Ollwerther was the COO of a national drone service company based in NYC.
---
David Neuman, Chief Creative Officer Kartoon Channel!
David Neuman's 30-year career spans television, film, and digital media, where among other executive roles, he was President of Walt Disney Television and Touchstone Television where he oversaw hits such as The Wonderful World of Disney, Boy Meets World, Ellen, and the then #1 sitcom on television, Home Improvement. As VP of Comedy at NBC, Neuman oversaw iconic series, such as Cheers, Family Ties, Golden Girls, and Alf, where during his tenure, NBC series received over 100 Emmy Awards.
He has also served as Chief Programming Officer for CNN, a TV and film producer at 20th Century Fox, and founding exec/head of content at three landmark startups: Channel One, Digital Entertainment Network, and Current TV. Along the way, Neuman was instrumental in launching the careers of Anderson Cooper, Lisa Ling, and Jason Silva, among many others.